How to prepare waybill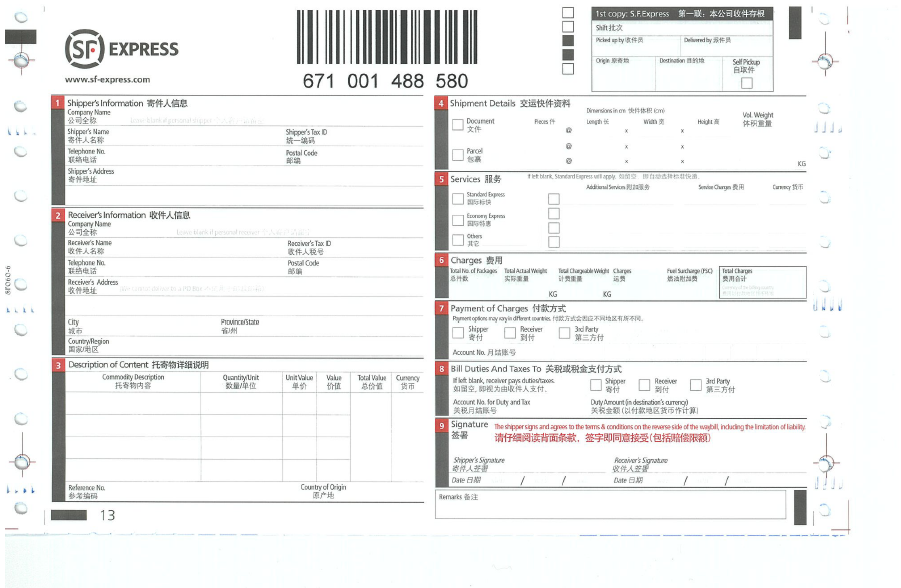 The waybill is suitable for outbound express delivery services from Thailand.
International waybill contents should be compatible with the information on the invoice.
The waybill and invoice must be written in English. Chinese or other languages are not allowed. 
1. Shipper's information
    Fill in the shipper's detailed information.
2. Receiver's information
    Fill in the receiver's detailed information; please note:
    2.1  "Receiver's tax ID": It is better for you to provide the receiver's tax ID for a smoother customs clearance process. Especially for shipments to Taiwan, the Tax ID (company) / ID card number (personal) of the receiver must be written in this column.
    2.2  "Postal Code": the customer should fill in receiver's destination postal code correctly.
3. Description of Content
    You have to fill in the shipment's detailed information. Take a multi-piece shipment; for example, you have to list all the detailed information. The column of declared value should be filled with shipment's the total value. Note:
    3.1 The currency must be denominated in US Dollars "USD";
    3.2 The origin should be filled with the code of the country or region. For example, Chinese Mainland is "CN", Hong Kong "HK",  Taiwan "TW", America "US", and Singapore "SG" etc.
   3.3 Reference No.
    It should be available for customers based on the customer's requirements.
4. Shipment Details
4.1 Shipment Type
You have to choose between "doc" or "Parcel".
4.2 Dimensions in cm
       You have to fill in the largest numerical value of length, width and height (Unit: cm) of shipment, how to calculate the dimension weight? For aviation shipment, you should multiply the above three values then divide by 6000(Standard Express and Economy Express adjust volumetric weight divisor from 6000 to 5000). For overlanded shipment, just multiply the above three values and then divide by 12000.
5. Services
    Fill the additional service name and charges offered by the company. Tick before the column of "Others", fill the additional service name and then fill the actual charge in the gap.
6. Charges
    Fill in the total no. of package, actual weight, chargeable weight, charges, and total freight charge of shipment. Total freight equals additional service charges plus freight.
7. Payment of Charges
   Fill the terms of payment accurately.
8. Bill Duties And Taxes To
  Leave it blank, if the receiver pays duties/taxes
9. Shipper's Signature/Receiver's Signature
      Shipper must sign on the HAWB, and fill in the actual date of shipping.
      Receiver must sign on the HAWB and fill in the actual date of receiving the shipment.
      Note: Receiver should fill in the full name.
10. Remarks
    You can fill in the unclear information in the remark column in the HAWB.