How to Prepare Your Invoice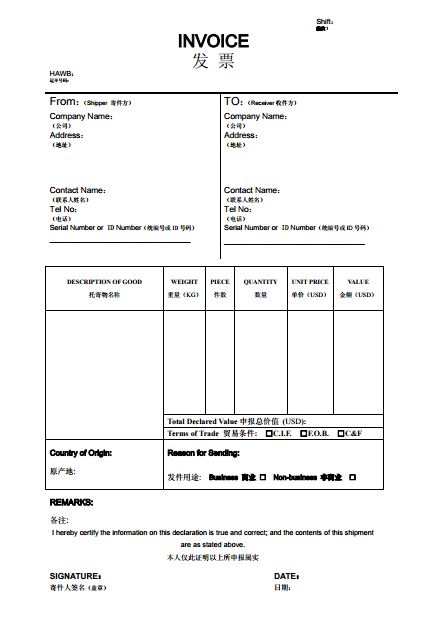 1. HAWB No.
The HAWB number should match the AWB number.
2. Shipper's Information
Company's Name/ Shipper's Name/ Tel No./ Address/ Country & Postal code.
3. Receiver's Information
Company Name/ Receiver's Name/ Tel No./ Address/ Country & Postal code (Excluding Hong Kong and Macao).
4. Serial Number or ID Number
Fill in the consignee's business license number (8 digits) or receiver's ID number (10 digits) if the shipment destination is Taiwan.
5. Descriptions of Goods
Shipper must fill in the detailed description of goods including materials. All products should be listed separately, and the declared value must be in USD or local currency (3 digits). (Do not fill in the dollar sign "$".) If the contents do not have any commercial value, please write: "NO COMMERCIAL VALUE, NOT FOR SALE"or"VALUE FOR CUSTOMS PURPOSE ONLY".
6. Country of Origin
Please fill in the shipment's country of origin.
7. Terms of Trade
Intercoms (e.g. CIF, FOB) must be marked to describe the buyers and seller's obligations with regards to the transportation of goods.
8. Reason for Sending
The shipper must specify whether the shipment is for business or personal purposes.
9. Signature & Date
The shipper must sign his/her signature and fill in the date on the invoices.