SF Authorized Resellers
Aiming at providing convenient international express services to customers in overseas countries, SF Express launched the Authorized Reseller Project outside China in 2018. Customers living or working in overseas may visit the nearest SF Authorized Service Counters when they want to send international shipments.
SF Express has set up many Authorized Service Counters covering all over Japan with qualified Authorized Resellers, which includes the following:
Authorized Resellers

Authorized Code

Shouyo Co., Ltd.

JP1809SY

LDB IKEBUKURO CO., LTD.

JP1912RS

Grand 

A Co., Ltd

.

JP1909GA

Daikou Company

JP1904DK

Yuritei Co., Ltd.

JP1905YR

Tanabe Shoji., INC.

JP1907TN

Pastral Co., Ltd.

JP2007PS

PJ SUPPLY CHAIN CO., LTD.

JP2109PJ
Currently SF Express has set up many Authorized Service Counters with local Authorized Resellers. Find the nearest service counter at "Authorized Service Counter" around you.
How to identify an authentic SF Authorized Counter
In every SF Authorized Counter, there must be a Letter of Authorization and an SF Authorized Reseller logo authorized by SF Express in the store. The information on the Letter of Authorization includes the company name of the authorized reseller, authorized code, valid date, the address of the Authorized Service Counter and a code of the counter, as well as SF's seal. It is highly recommended that customers check the above information and visit SF website for correct information when visiting and using SF services at the authorized counters, so as to avoid any non-authorized companies using SF brand to provide non SF services.
Here are the samples for the Letter of Authorization and Authorized Reseller logo for your reference.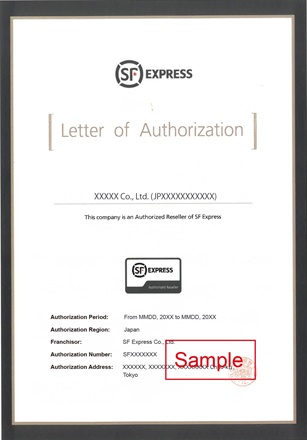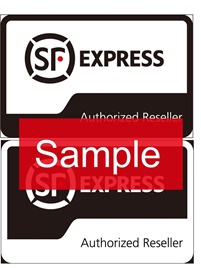 Letter of Authorization                                                     Authorized Reseller logo
Resellers are responsible for the business authorized by SF Express at service counters. We encourage customers to supervise and monitor the service quality at our Authorized Service Counters by sending email to cs1.group_jp@sf-express.com.