Important Notes on Customs Clearance (Chinese Mainland) for Personal Shipments
1. Confirmation of transportability
According to the relevant regulations by the Chinese customs, some items or commodities are not allowed to be imported to the Chinese Mainland. We strongly suggest you check in advance whether the items or commodities you want to send are included or not. You may check here or put in the item name and search at our website. 
2. Value of the commodities
According to China import regulations, all personal shipments imported into the Mainland have to meet the following requirements:
Maximum Declared Value

Ship From Hong Kong, Macau And Taiwan regions

Ship From Other Countries

A shipment with multiple items

Total declared value cannot be more than RMB 800

Total declared value cannot be more than RMB 1,000

A shipment with one undividable item

If it is intended for personal use, it would be imported as personal shipment even if the total declared value exceeds the prescribed limits.
For individual customers sending personal shipments to individuals (C2C shipments), please keep a screenshot of the transaction details or sales receipt for customs clearance.
3. Accurate information for customs clearance
It is compulsory to declare the type, brand name, value and description in the light of actual commodities conditions.
4. Quantity of commodities
Please ensure that the quantity of your purchase is reasonable for personal use. For example, 2 bottles of the same health supplement can be considered as an adult dosage for a period of time (6-12 months) but if you ship more than 1 quantity of watches with the same model, it will probably be considered as a commercial shipment and this will lead to a delay in customs clearance and request for additional supporting documents.
5. Duty incurred importing to Chinese Mainland
There may be duty incurred for commodities shipped to Chinese Mainland. Duty may be paid by either the shipper or receiver in China. Duty amount is determined by the type of commodity, quantity, declared value or duty paid value (as determined by China customs). According to regulations on postal items by China Customs, the current import duty threshold for personal item is RMB 50. Duty amount equal to or less than RMB 50 is waived.
You can check the duty rate and duty paid value from the link below (Chinese ver.).
http://www.customs.gov.cn/customs/302249/302266/302267/2389289/index.html 
6. Receiver's ID copy for customs clearance
According to China imports regulations, the receiver must provide ID copy for personal shipment customs clearance.
Reference: http://www.customs.gov.cn/customs/302249/zfxxgk/gkml287/index.html?callbackUrl=/tabid/1165/InfoID/2484/Default.aspx
http://www.mofcom.gov.cn/article/b/g/201508/20150801094480.shtml 
SF offers two ways to customers to upload their ID copy: SF official website and WeChat.  
1. Upload ID copy via SF official website
Go to the "Consignee ID copy Uploading" page on SF Official Website. Follow the steps to upload your ID copy.
2. Upload ID copy via WeChat
WeChat is a social application which supports both iOS and Android systems. "顺丰国际日本" is an official WeChat account to provide customers with convenient service enquiry and shipment tracking services.
Follow us on WeChat
2 ways to follow us on WeChat:
1.  Open WeChat mobile App, scan the QR code below and follow SF International.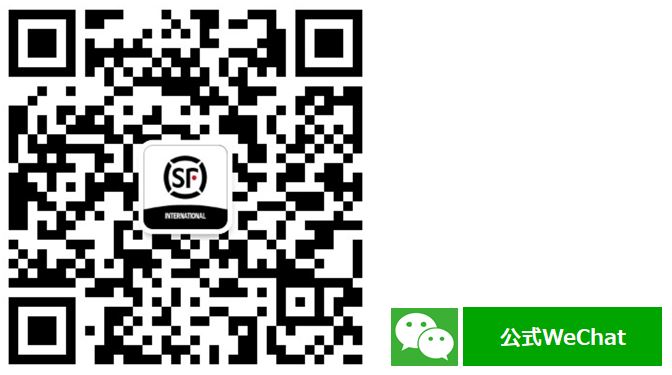 2. Download WeChat app in the App Store, and search "顺丰国际日本" on WeChat and follow.
 Upload ID copy: "寄件服务"→"通关服务"→ "证照单证"→ Enter the air waybill number then upload receiver's ID copy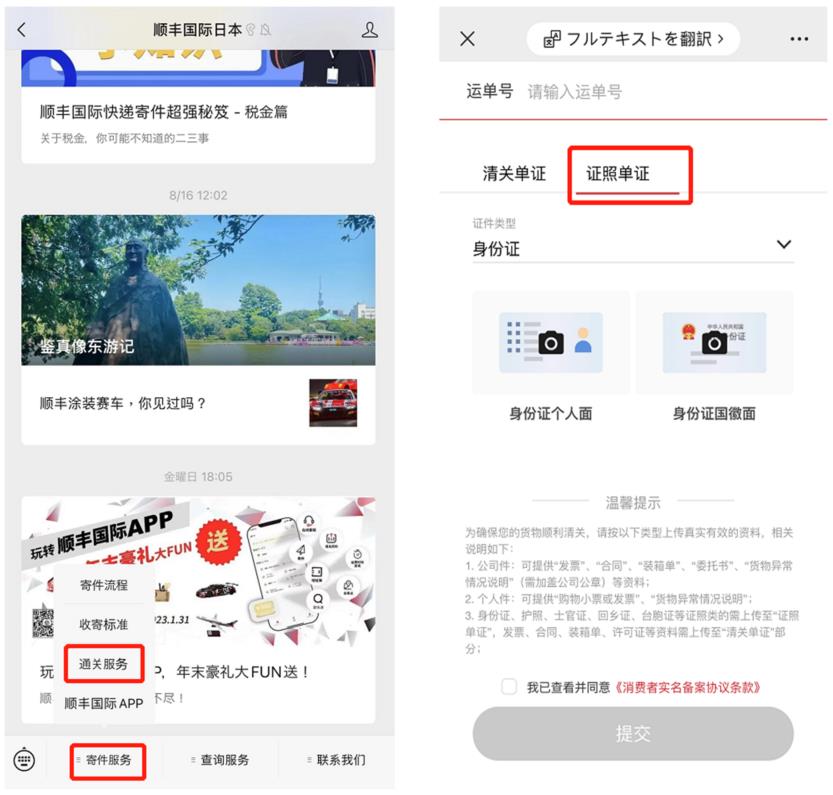 Safe and reliable
Your ID copy will be stored in a secure S.F. Express server and will only be used for customs clearance purpose only. We are committed to protecting your privacy and your ID copy will not be disclosed to third parties without your prior consent.
7. Please click here for information on prohibited and restricted goods imported to Chinese Mainland.
For more information, please email us at cs1.group_jp@sf-express.com or contact our Customer Service Hotline at0120 683 683.